Horizontal Laminar Airflow Unit
Airomax Airborne LLP is a superior manufacturer of laminar airflow unit workspace that provides filtered and clean working areas via HEPA filtering system which can be maintained in a working space particle and bacteria-free clean environment. Horizontal Laminar Airflow Bench/Cabinet/Unit, Horizontal Laminar Airflow Hood is used for, multipurpose works which require maintenance of the purity & cleanliness like plant tissue culture, examination, and experimentation of precision electronics parts, medical sciences, pharmacy, agriculture sector.
Since it is made of the highest quality material, the horizontal laminar airflow cabinet is extremely durable. The blower, light, and pressure monitor are all controlled by a feather touch controller on the high-tech horizontal laminar airflow hood/horizontal laminar airflow bench. A polycarbonate / glass front panel and side panel are also included with the horizontal laminar airflow unit. The elevated laminar airflow cabinet is also termed known for its unparalleled strength and best performance.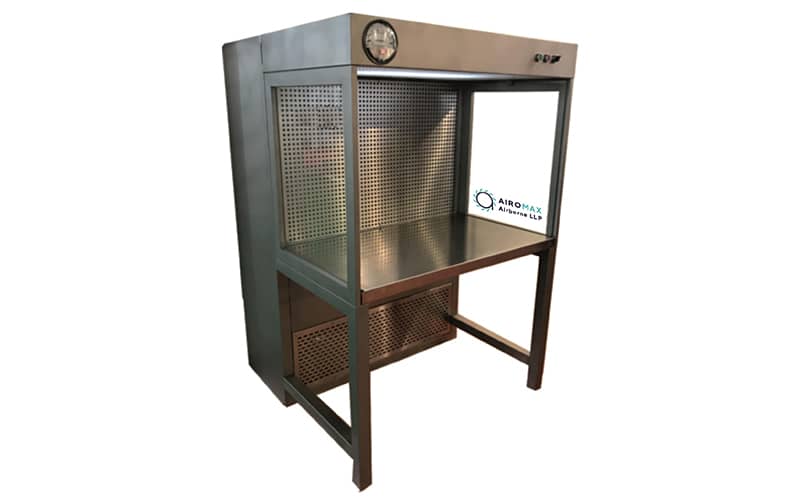 HORIZONTAL LAMINAR AIRFLOW UNIT / BENCH / CABINET FEATURES
Air Flow Direction: Horizontal
Cabinet Fabricated in SS 304/316/MS Powder CoatedStructure
Polycarbonate/Glass Side Panel and Front Panel
Air velocity: 0.45±0.05 mps (90±20FPM) Below Six Inch Of Grill
Miniplate HEPA filters H-14 99.999% Efficiency 0.3µm
Pre-Filter Glass Fibre Media EU-6 98% Efficiency 5 µm
Magnehelic Differential pressure gauge
Centrifugal Or Back-word Curved type Air blower with Speed Variable
SS 304 working platform
Germicidal Ultraviolet fluorescent light
Feather Touch controller for Blower/Light/Pressure Display
DOP Port/Atmospheric Nozzles
Sound Level Minimum 65db On Scale
Power Supply Single Phase 220V 50 Hz
OPTIONAL FEATURES FOR HORIZONTAL LAMINAR AIRFLOW UNIT / BENCH / CABINET
Digital Pressure Gauge with Alarm
Hour Meter